What To Do In Seville, Spain - My Top 11 Spots
*There is a good chance this blog post may contain affiliate links. If you click one of them, I may receive a small commission (which I am very grateful for) at no extra cost to you. You can read more about the use of affiliate links on this site here.
I am so excited to be writing this article about my second home, Seville (Sevilla en español).
I have been so fortunate to have lived in Sevilla for over a year. Getting to know the culture, the people, and of course, all the fantastic things this city has to offer has been the most exciting chapter of my life.
Sevilla is the capital and largest city of Andalusia. Sevilla holds an extraordinary place in my heart. Not only is it my second home, but it is also the first city I truly fell head over heels in love with. I also fell in love for the first time while living here, and HOLY was it ever romantic.
I absolutely love the way 'Lonely Planet' describes Sevilla.
Some cities blast you away; others slowly win you over. Seville disarms and seduces you. Its historic centre, lorded over by a colossal Gothic cathedral, is an intoxicating mix of resplendent Mudéjar palaces, baroque churches and winding medieval lanes. - https://www.lonelyplanet.com/spain/seville
In this blog post, I will take you through 11 of my favourite things to do & see in Sevilla.
To be completely honest, I love every single thing about this city, so picking only 11 was difficult.
For most people visiting Sevilla, they only have a few days (if you can, please give yourself more time to explore).
The next 11 spots are my favourite and if you are short on time for exploring, these are the MUST SEES.
The Best Markets in Seville
One of the things I love the most about Sevilla is that is has something amazing to offer for everyone.
With a variety of markets located all around the city, you have endless opportunities to find whatever it is you are searching for.
Sevilla is a food lovers paradise. At these markets, you can find the best quality cheeses, meats (jamón) fish, and everything else in between.
Triana Market
Located right next to our home - this one wins the #1 spot
This joyful cacophony of fruit, veg and meat stalls was built on the site of an old castle – one wall of which still remains – and given Andalusians' flair for turning even the most quotidian task into a social occasion, it is also home to a number of superb little tapas bars. Enjoy a sweet sherry and perhaps a little fresh fried fish as you watch the world unfold around you. - https://theculturetrip.com/europe/spain/articles/the-best-markets-in-seville-spain/
Triana market is over 150 years old
Built over the ruins of Castillo de San Jorge
Feria Market
Situated right next door to a beautiful 13th-century church, Feria offers punters a comprehensive selection of fresh fruit, veg, meat and flowers as well as superb tapas bar, La Cantina. The fish tapas served here is some of the freshest and most delicious in the Andalusian capital and best enjoyed with a crisp, cool beer after a good morning's haggling. After which, if there's still time, you can wander onto Calle Feria's street market and try and pick up a useless yet beautiful bargain before the vendors head off for lunch and a siesta. - https://theculturetrip.com/europe/spain/articles/the-best-markets-in-seville-spain/
Jueves Market
Every Thursday, the central thoroughfare of the Feria barrio (unsurprisingly called Calle Feria) comes alive with Seville's largest and most colourful flea market. This hoarder's paradise – the stalls of which are manned by characteristically loud and cheeky Andalusian vendors – has been a staple of the city's street life for as far back as many locals can remember and is a great place to spend a Thursday morning (Jueves in Spanish, hence the market's name), even if you don't end up buying anything. - https://theculturetrip.com/europe/spain/articles/the-best-markets-in-seville-spain/
The giant wooden monument that towers over it was built between 2005 and 2011 and is known as Las Setas, or 'The Mushrooms', due to the fungi-like shape of its canopies. The space beneath is home to some impressive Roman remains that were discovered during the monument's construction, as well as a superb food market selling a huge variety of fresh fruit, vegetables and meat. That's not really what you come to Mercado de la Encarnacion for though, it's more about combining a little food shopping with a stroll around the rooftop walkway, which offers amazing views of Seville. Even better, a glass of prosecco is included in the price of your ticket. - https://theculturetrip.com/europe/spain/articles/the-best-markets-in-seville-spain/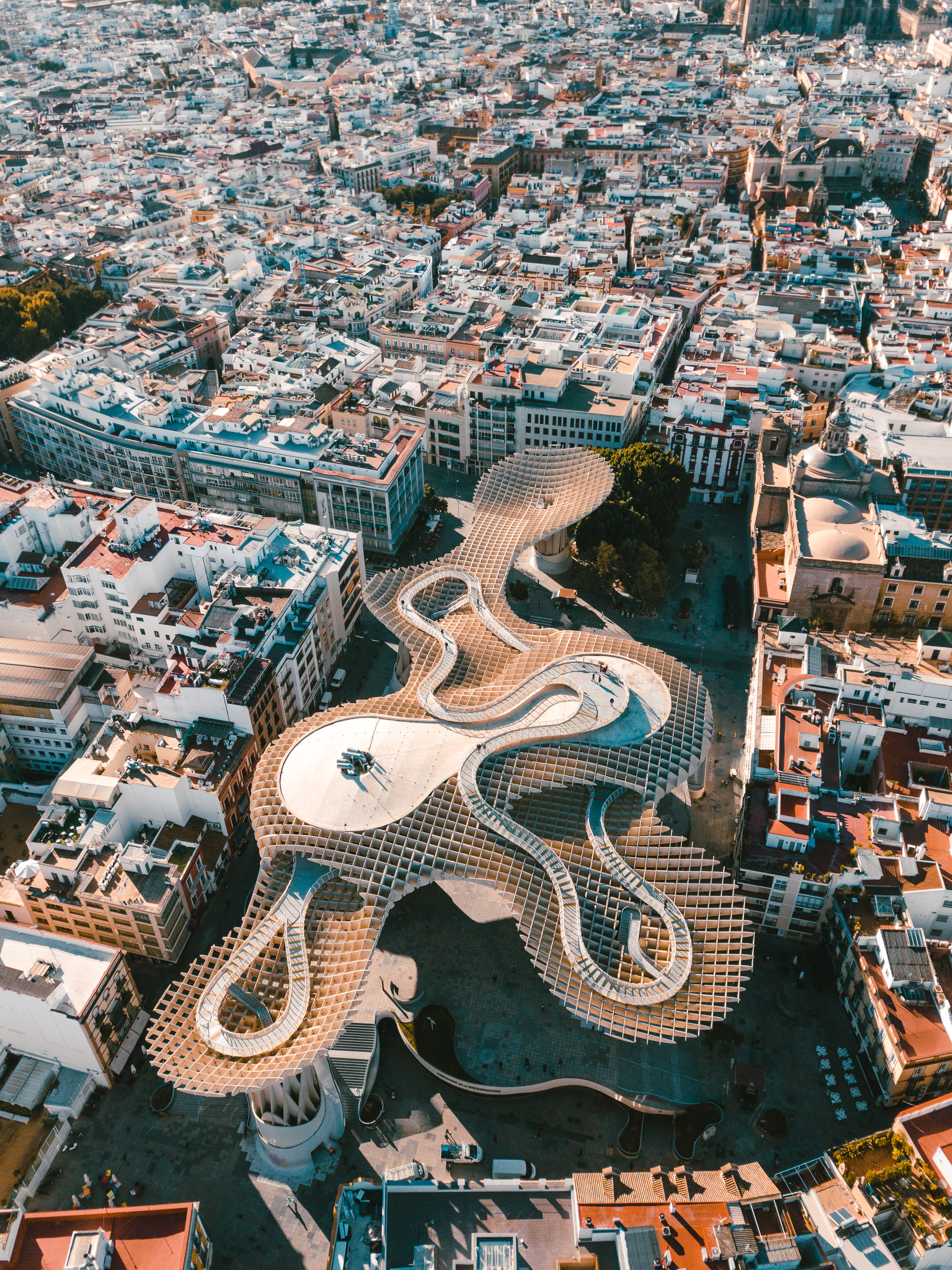 Want to watch a beautiful sunset overlooking Sevilla?
I highly recommend coming to Las Setas for the sunset - your ticket includes a free drink down at the bottom once you are done
Opening hours
Viewpoint and walkways:
Sunday-Thursday: 10:00 - 22:30 h.
Friday and Saturday: 10:00 h - 23:00 h.
Price
General ticket 3 €.
3. Triana & Flamenco
The old gypsy quarter of Triana lies across the Guadalquivir River and is renowned for its old ceramic workshops, producing the city's iconic, colorful tiles. It's a very local district and has a unique feel, which is different from the rest of the city. Home to a number of excellent flamenco clubs and tapas bars, it's definitely worth the hop across the river to explore it. Head to lively Calle Betis, along the water's edge, for a great night out. Other sights in Triana include the Castillo de San Jorge, a medieval fortress and now a museum, which was used as the headquarters of the Spanish Inquisition. - https://theculturetrip.com/europe/spain/articles/a-guide-to-sevilles-best-barrios/
Flamenco in Triana
After living in Triana, I got to know one bar in particular very well.
Lola Cazerola is one of my favourite places to watch Flamenco in Triana. Here is the address - Calle de Castilla 36, 41010 Seville, Spain.
It is a family-owned bar & restaurant that has live Flamenco every night of the week.
What I love the most about Lola is that everyone joins in. In one evening you could enjoy multiple singers and locals dancing in a small intimate space.
I highly recommend booking a table for dinner (it fills up pretty quick). The food is fantastic, and the prices are even better. The performances typically begin around 11 or so, having a table guarantees you an excellent spot for watching the show.
In my experience, this place is only really known by the locals. The staff doesn't speak English, so you may want to brush up on some of your basic Spanish.
For me, this spot is the ultimate authentic, local, and entertaining spot to watch Flamenco.
You can check out their website here for further information.
This gorgeous 15th/16th-century mansion is one of central Seville's more obscure historical attractions but is one of its most beautiful Mudéjar structures. Started by the wealthy 'conquistador' and Mayor of Andalucia, Pedro Enriquez de Quiñones, in the late 1400s and like Seville's great Alcazar, Casa de Pilatos is a captivating mixture of Mudéjar and Renaissance styles. Its various quarters sit around a central courtyard that features some of the most beautiful gardens in Seville. - https://theculturetrip.com/europe/spain/articles/mudejar-architecture-in-5-amazing-buildings/
We spent hours exploring the gardens
Casa de Pilatos is stunning - I fell in love the moment I walked through the doors
Entrance:
Ground floor: 6 €
Ground and upper floors: 8 €
5. Las Dueñas Palace
Las Dueñas Palace, House of Alba's current residence in Seville, was built between the 15th and 16th centuries and is one of the greatest historical attractions of the city. The building itself, including styles from Gothic-Mudejar to the Renaissance, has significant architectural interest as its several gardens and patios with a special charm . With a diverse collection of painting and sculpture, the house also treasures many family memories. - https://www.tripadvisor.ca/Attraction_Review-g187443-d10076102-Reviews-Las_Duenas-Seville_Province_of_Seville_Andalucia.html
Entrance:
General Admission- €10.00
The city's old Jewish quarter is one of Seville's most charming areas, characterized by narrow, cobbled streets, fountain-filled plazas, white-washed buildings and streets lined with orange trees. It's also one of the most popular barrios for tourists, being home to some of the city's best sights, including the UNESCO World Heritage Royal Alcázar – the Moorish palace, dating back to the 1300s – and the famous La Giralda Cathedral, with an old minaret for its bell tower. Spend your time here getting lost among its maze of streets, stopping off at tapas bars along the way and admiring its attractive architecture. - https://theculturetrip.com/europe/spain/articles/a-guide-to-sevilles-best-barrios/
The colourful streets of Santa Cruz
Right around the corner from here is Spain's oldest tapas bar - El Rinconcillio. Click here to read all about our experience there.
My favourite thing to do in Santa Cruz?
Get completely lost!
Spend a whole afternoon exploring this charming 'barrio' and watching the local life unfold.
7. Alcázar of Seville
The greatest surviving instance of the Mudéjar style in Spain is Seville's Alcazar palace. Work on this sprawling complex – the top floors of which comprise the Spanish royal family's Seville residence – began in the 10th century and continued, on and off, until the 19th century. The result is a structure that showcases fine examples of Moorish and Renaissance architecture as well as Mudéjar, with the latter style being particularly notable in the archways of the Alcazar's peaceful internal courtyards. It is perhaps the greatest single monument in Seville that demonstrates how the two cultures have shaped Andalusia. - https://theculturetrip.com/europe/spain/articles/mudejar-architecture-in-5-amazing-buildings/
Any Game of Thrones fans?
You may recognize this spot as 'The Water Gardens and Sunspear, seat of House Martell in Dorne.'
Entrance:
General Admission- €7.00
*On Monday's you can have free admission - check out this site to reserve your free tickets.
Even for those who are normally unmoved by big churches, the sheer size of Seville's mighty cathedral will cause a slight intake of breath upon first viewing it. The Cathedral of Saint Mary of the See, is the largest cathedral in the world; in total, it comprises 80 chapels and is home to the biggest altar on the planet. Construction of this sprawling Gothic complex, which takes up the equivalent of several city blocks, began on the site of Seville's former mosque in 1401 and continued for over a hundred years. In 1507 the cathedral was finally completed, quite spectacularly succeeding in its original aim – namely, to show the rest of Europe how powerful and wealthy Seville had become. - https://theculturetrip.com/europe/spain/articles/top-10-things-to-see-and-do-in-el-centro-seville/
In the northeastern corner of the cathedral you'll find the entry to the Giralda. The climb to the top involves walking up 35 ramps, built so that the guards could ride up on horseback, and a small flight of stairs at the top. Your reward is sensational rooftop views. Its proportions, delicate brick-pattern decoration and colour, which changes with the light, make it perhaps Spain's most perfect Islamic building. The topmost parts – from bell level up – were added in the 16th century, when Spanish Christians were busy 'improving on' surviving Islamic buildings. At the very top is El Giraldillo, a 16th-century bronze weathervane representing 'faith', that has become a symbol of Seville. - https://www.lonelyplanet.com/spain/seville/attractions/catedral-de-sevilla-giralda/a/poi-sig/1210358/360736
My favourite view in the whole city…
The view's overlooking the busy city down below from the top of the Giralda
The beautiful, expansive Plaza de España is home to one of the finest examples of the neo-Mudéjar style in Seville. Built in 1928 in preparation for Seville's hosting of the Ibero-American Exposition of 1929, this vast, half-moon building showcases a satisfying blend of Moorish-revival and Renaissance styles. Splashes of Art Deco also characterise the colourful façades of what are now offices for southern Spain's luckiest regional politicians and bureaucrats. A large moat fronts the buildings and features four bridges representing the ancient kingdoms of Spain; it's a place where you can admire the neo-Mudéjar architecture while enjoying a laid-back boating adventure. - https://theculturetrip.com/europe/spain/articles/mudejar-architecture-in-5-amazing-buildings/
10. Maria Luisa Park
When planning your time in Sevilla, you want to leave a whole afternoon to spend at Maria Luisa Park.
One of the most famous neo-Mudéjar structures in Seville is in the city's lovely Maria Luisa Park. Like the park itself and the famous Plaza España buildings in the same area, the 'Mudéjar Pavilion' was built for the Ibebro-American Exposition of 1929. - https://theculturetrip.com/europe/spain/articles/mudejar-architecture-in-5-amazing-buildings/
A delightful oasis of green, the extensive Parque de María Luisa is a lovely place to escape the noise of the city, with duck ponds, snoozing sevillanos and shady paths snaking under the trees. - https://www.lonelyplanet.com/spain/seville/attractions/parque-de-maria-luisa/a/poi-sig/411866/360736
11. Bike Along The Guadalquivir River
To sum up all these beautiful spots and sights, my ultimate favourite way to spend a day in Sevilla is biking along the river.
There is an incredible community bike program in Sevilla called Sevici.
They have hundreds of stations and thousands of bikes all over the city.
It is a great way to get around. They have bike paths throughout the city, making all spots accessible.
I highly recommend picking up a bike here -
From here you can bike all along the river on the bike path that will eventually bring you to Maria Luisa Park.
My beautiful Grandma & I biking along the river
Pack a picnic, ride along the river, and relax at Parque de María Luisa
Here you can check out the bike rental website. I recommend getting the app (it shows you which stations have bikes and where you can drop off.) Your first 30 minutes with the bike is completely free (who doesn't love free!.)
If I wrote a blog post about EVERYTHING I love about Sevilla, I would be writing for years.
This city is spectacular and charming in every single way.
I hope you enjoyed my photo diary! Have you visited Sevilla before? Do you have a favourite spot or thing to do that wasn't listed here?
Please comment below and let me know!
I will be returning to Sevilla in November to spend two months with Fernando. I will have so much more 'Sevilla' coming your way.
Be sure to sign up for the newsletter below to be the first to know on new blog posts and updates.
Happy Travelling!