Frigiliana - Andalusia's 'Most' Beautiful Village
*There is a good chance this blog post may contain affiliate links. If you click one of them, we may receive a small commission at no extra cost to you. You can read more about the use of affiliate links on this site here.
the most beautiful, picturesque 'pueblo blanco' (white village) located in the Costa del Sol and less than an hour away from Malaga.
Hidden away in the mountain side of the Sierra Nevada and Sierra de Grazalema you will find many charming white villages.
I had never heard of Frigiliana until recently when I found myself reading an article showcasing some of the white villages located around Sevilla.
All of our friends also had no idea where Frigiliana was making is MUCH more appealing to us.
We decided to plan a 2-day trip to see this little white village for ourselves!
Within hours of arriving at this charming village perched up on the hill, we instantly fell in love.
With a landscape of perfectly white-washed homes and red stone roofs, every sight is enchanting. Filled with cobblestone streets, bright blooming flowers and unique, colourful doors, Frigiliana is a dream destination for every traveller.
It is not surprising that Frigiliana has been named the 'prettiest village in Andalusia' by the Spanish tourism authority.
We have just returned home from our amazing 2-day trip exploring breathtaking Frigiliana, and I would love to take you on our adventure.
HOW TO GET TO FRIGILIANA
The best way to get to Frigiliana is by car. Regardless if you are driving from Malaga, Sevilla, or somewhere in between it is pretty straight forward, and I recommend following your GSP. It is best to find parking near the center (during the day there is more parking available). Frigiliana is a beautiful town to walk around, and you can get everywhere you need to go by foot.
If you are staying in Malaga and would like to make a day trip to Frigiliana, I HIGHLY recommend it.
THIS DAY TRIP is a half day (5 hours) and takes you to both Frigiliana and Nerja. This tour is perfect for those of you who want a taste of both places and maybe don't have enough time to spend the night. Nerja is another charming typical Andalusian white village. Here you will find breathtaking views of the Mediterranean Sea from the 'Balcon de Europa.'

THIS DAY TRIP is more of a full day tour (7 hours). This tour will allow you a little more time to enjoy both Frigiliana and Nerja and also includes a drink and a tapa!
Are you planning a trip to Malaga?
Malaga is a perfect city to use as a base point to allow you to explore all the stunning towns and villages around. When I first arrived in Spain, I LOVED doing these tours for many reasons.
You don't have to do much planning at all.

If you are travelling solo, you will have an opportunity to meet others.

Have you seen the drivers in Spain? It can be a little 'loco' on the streets if you know what I mean. I always felt so reassured knowing I had a safe form of transportation to and from each destination.

Many of the beautiful villages around are ONLY accessible by car or bus.
You can check out some of my favourite tours departing from Malaga here.
WHAT TO SEE & DO


The best thing to do in Frigiliana is to EXPLORE!
Get a little lost among the colourful flowers and pots, winding cobblestone paths, and stunning panoramic views of the city down below.
If you enjoy hiking, Frigiliana is FULL of incredible trails for a memorable day spent in nature.
HERE you will find a list of the 15 best hiking trails around Frigiliana.
Indulge yourself in the local fresh fruit and vegetables
Enjoy all the unique, colourful, charming doorways
You will want to stop and see every one of them! (and there are PLENTY).
Become mesmerized with the endless colours surrounding you.
Explore all the unique artisan shops and admire all the hand made pieces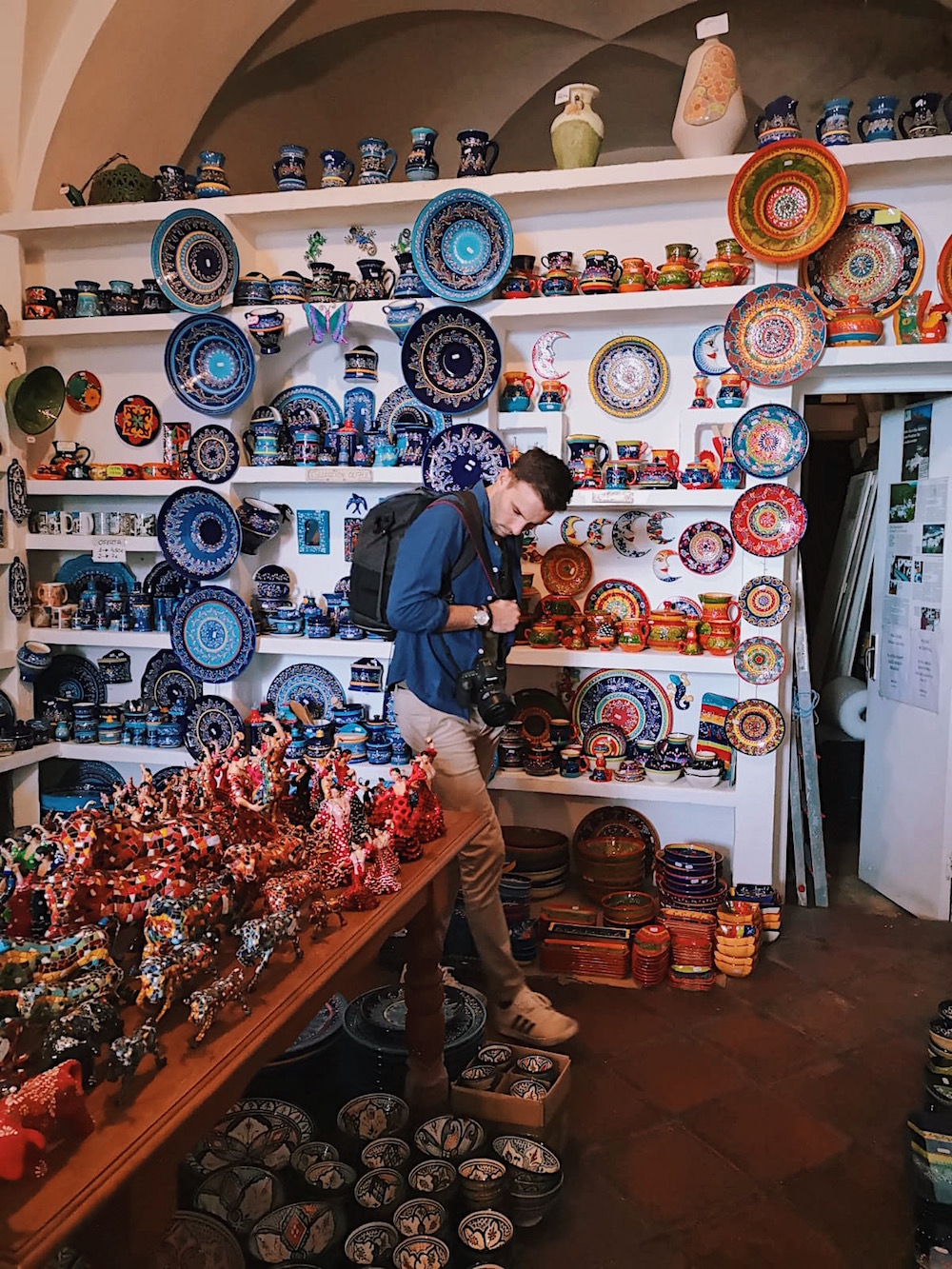 Don't forget to check out the impressive ceramic stores around the town. Frigiliana is famous for its artesian crafts and bright ceramics.
The Plaques of Frigiliana
One of the most significant events in the history of Frigiliana was the final expulsion of the Moors in 1569.
While exploring Frigiliana, keep your eyes open for 12 beautiful ceramic plaques located throughout the village.
The series of the 12 plaques tell the story of the struggle between the Moors and the Christians which ultimately lead to the battle on the hilltop of 'El Fuerte.'
The text on the plaques is in the old Castilian language ( I was lucky to have my Spanish boyfriend with me to translate the story for me.)
WHERE TO EAT
When it comes to food in Spain, I feel incredibly grateful for my boyfriend. He knows the ins and outs of the food culture here, and he can spot out a 'touristy' place within seconds.
Sometimes we play a little game while exploring a new city or town where I try and guess if a bar or restaurant is touristy or not while passing by.
90% of the time I am wrong.. so without him, I would feel completely lost while picking where to eat and my food experience would be COMPLETELY different.
We happened to stumble across a local, traditional, family-owned restaurant in Frigiliana that also has the MOST incredible view.
La Parada del Zacatin
My favourite thing about this restaurant was the breathtaking views of the hills and town below from the rooftop terrace. Everything we ordered was home-cooked and done to perfection. There were only two staff members there when we came (a mother and daughter). The menu is vast, and it was awe-inspiring that between the two of them they could cook everything in a little kitchen. The prices are also unbeatable.
If you want fantastic Spanish food, be sure to come here! My boyfriend always gives a genuine, honest 'local' opinion, and he was blown away by the meal we enjoyed here.
Berenjenas con miel de caña
Miel de caña is used in many traditional dishes in Frigiliana. It has a honey texture and is so sweet & delicious. You HAVE to try! It is incredible….
Anchovies in vinegar. A typical tapa in the South of Spain.
Traditional Spanish dish. The ingredients vary across the provinces of Spain. Here it is served with green pepper, egg and chorizo. MUST TRY while in Spain.

WHERE TO STAY

During our time in Frigiliana, we had rented out a gorgeous Airbnb in the center. I highly recommend using Airbnb to rent a home for your time here. As Frigiliana is a small town, hotel options are next to nothing. Airbnb is full of hidden gems around the center and many for an INCREDIBLE price. You can check out all these amazing stay-worthy places available in Frigiliana here.


The whole experience was dreamy. A typical day for us in Frigiliana? We were sleeping in, waking up to the sun and the birds chirping, getting lost amongst the whitewashed streets and cobblestone paths. Tasting flavourful wines and enjoying traditional food, and watching the breathtaking sunset fall over the panoramic view.
We adored every single second spent in Frigiliana and would return in a heartbeat.
Have you travelled around the Costa del Sol before? I would love to hear all about your experience! Are you planning an upcoming trip? Feel free to ask me any questions below.